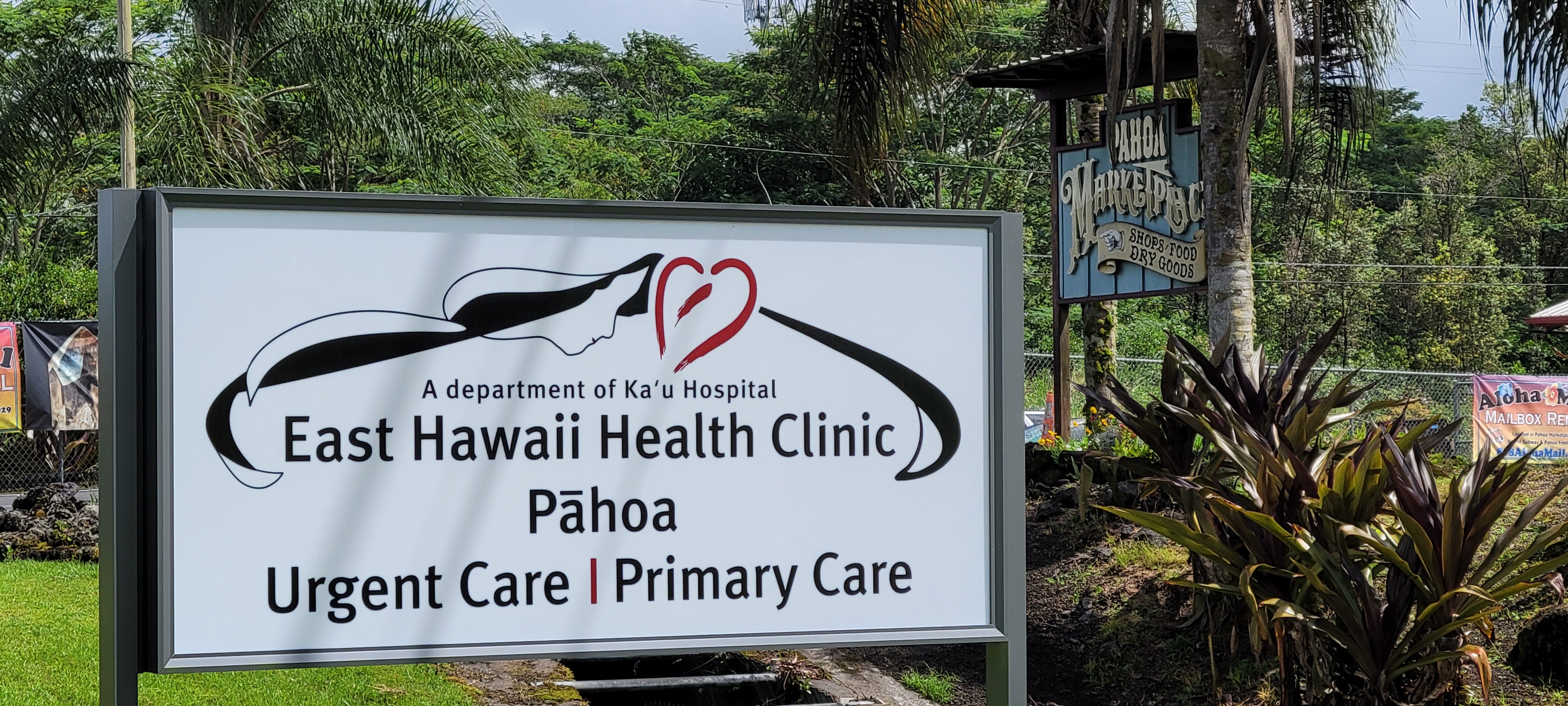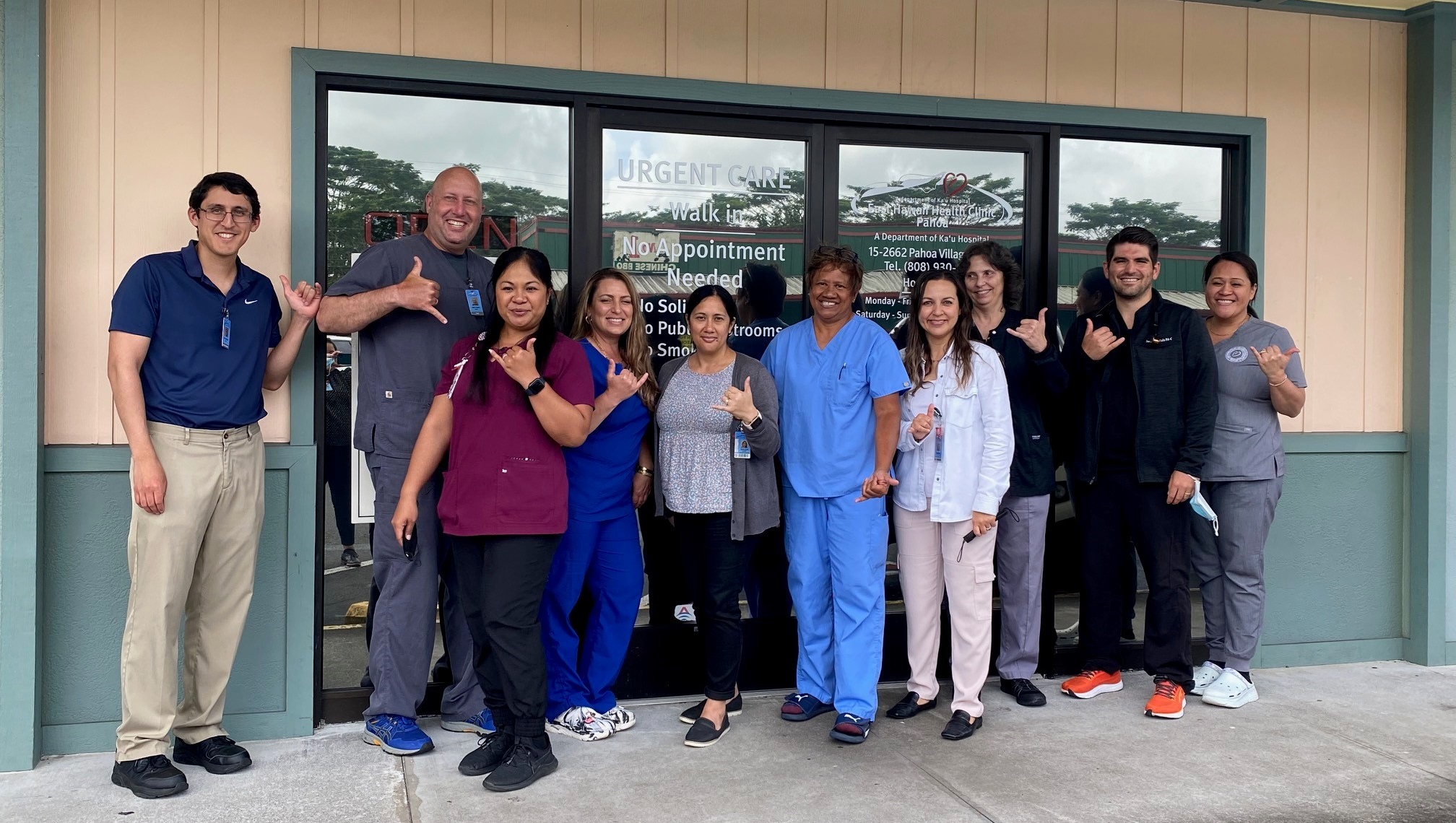 EAST HAWAII HEALTH CLINIC – PAHOA
East Hawaii Health Clinic – Pahoa, located at 15-2662 Pahoa Village Road in lovely Pahoa, HI is a premier clinic in the Puna District of the Big Island, offering Primary Care, Urgent Care and Behavioral Health and Wellness services that are patient-centered, culturally competent, cost effective and deliver exceptional outcomes and superior patient satisfaction.
Welcome to East Hawaii Health Clinic at Pahoa, a Department of Ka'u Hospital!
PRIMARY CARE
Our amazing Primary Care providers treat each patient as the complex individual that they are, with unique health concerns and individual wellness goals. Knowing and understanding your health history, goals and concerns, our providers offer comprehensive care that includes:
• Disease prevention and screenings
• Diagnosis and treatment of many types of illnesses
• Injury care
• Education related to disease prevention and treatment
• Coordination of care
URGENT CARE
In our Urgent Care clinic our exceptional providers treat a large number of non-emergent health conditions including:
• Mild illnesses and infections such as the flu, strep throat, conjunctivitis, etc.
• Minor injuries such as simple broken bones, sprains and burns
• Seasonal allergies and mild allergic reactions
• Rashes, coughs, sore throat, body aches, back pain, nausea, headaches and other common health issues
• Asthma and other chronic conditions
In addition to treating medical issues, our Urgent Care clinic provides a wide variety of medical services including:
Lab Services
• Pregnancy tests
• Urinalysis
• Rapid flu tests
• Rapid strep tests
• PCR and rapid COVID tests
• Blood glucose and A1c testing
Preventative Health Services
• Physicals (DOT, school, sports, etc.)
• Vaccinations and flu shots
• Gynecologic exams
• Drug screening
BEHAVIORAL HEALTH AND WELNESS
We are excited to offer outpatient-based Behavioral Health and Wellness services here at East Hawaii Health Clinic – Pahoa. Headed by our board certified Clinical Psychologist, EHHC – Pahoa's Behavioral Health and Wellness clinic offers mental health diagnostic evaluations, psychotherapy and social skills training to help patients deal with trauma and toxic stress. We handle issues including:
• Mood disorders such as depression and bipolar disorder,
• Anxiety and prior trauma induced disorders
• Restlessness and sleep issues
• Personality disorders
• Eating disorders
At EHHC – Pahoa our patients' health and well-being is of the utmost importance. Our caring team of staff and providers dedicate themselves everyday to ensure our patients receive the highest quality of care. We look forward to caring for you!
CDC Information of Illnesses
These sources include general information on prevention, diagnosis, and treatment of a variety of illnesses, some of which are known to have occurred locally. This information is not a substitute for treatment however, so please visit the PCMC if you suspect you have been infected.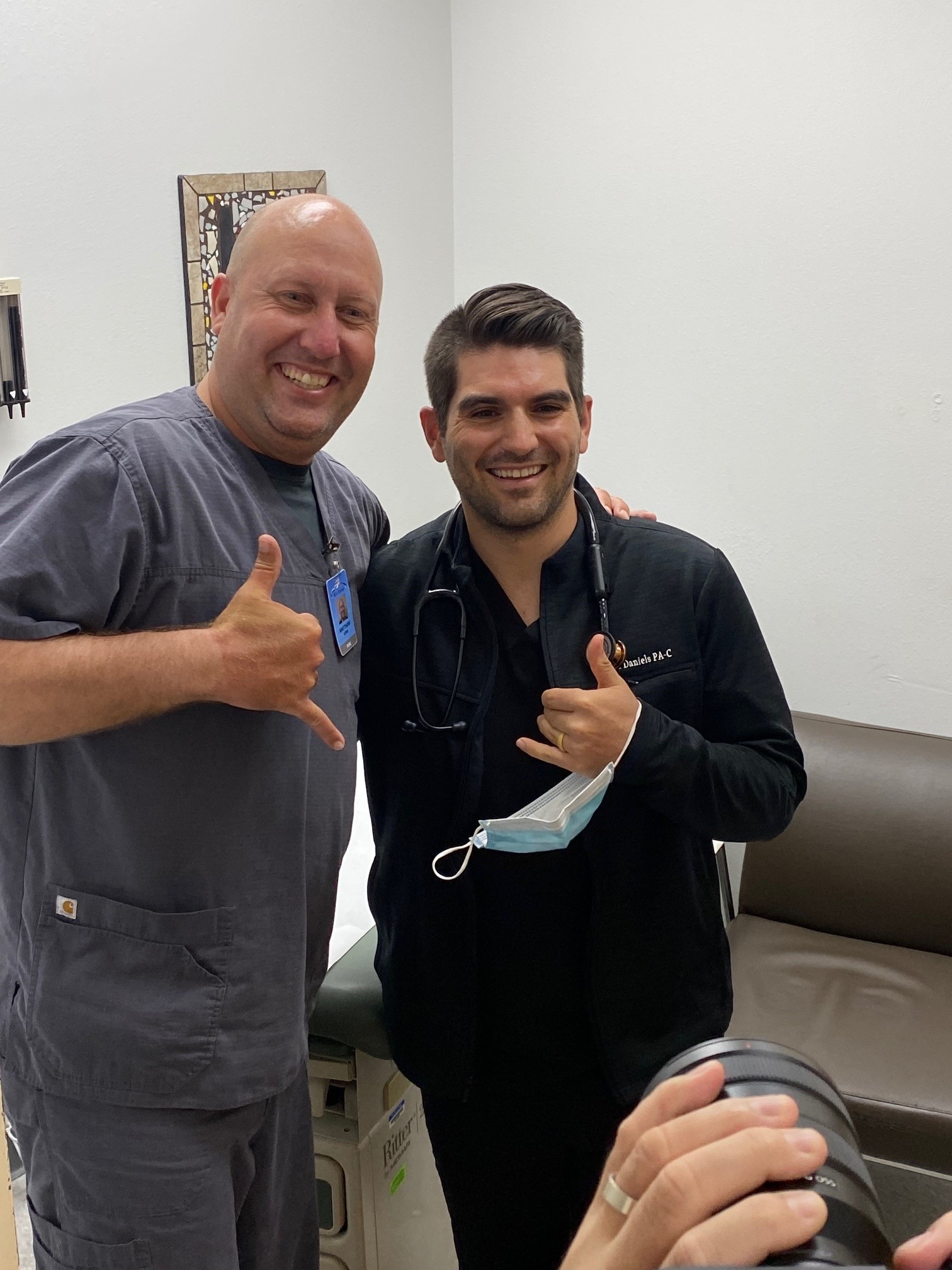 NOTICE TO PATIENTS: This clinic serves all patients regardless of ability to pay. Discounts for essential services are offered based on family size and income.
Minor Procedures:

Sutures
Suture removal
Wound management
Skin lesion removal
Joint injections
Incision & drainage of abscesses
Vaccinations:

Flu vaccines
Pneumonia vaccines
Infant & Child vaccines
Tetanus vaccine
COVID-19 Vaccine
On-site Laboratory Services:

COVID-19 Testing
Flu testing
Strep testing
Pregnancy testing
Glucose/Blood Sugar testing
Microscopy
Occult blood testing
PT/INR testing
Oxygen Saturation testing
Hemoglobin testing
Hemoglobin A1C testing
Urinalysis
Urine Drug Screening
CMP
Lipids
RSV
East Hawaii Health Pahoa Urgent Care Primary Care Behavioral Health